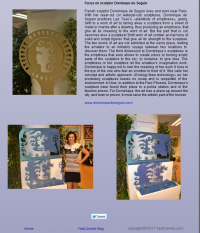 Aller au diaporama
Focus on sculptor Dominique de Seguin
French sculptor Dominique de Seguin lives and works near Paris. With her laser-cut (or waterjet-cut) sculptures, Dominique de Seguin practices Lao Tseu's "plenitude of emptiness" giving birth to a work of art by taking away a sculpture from a sheet of metal or marble after drawing, thus producing an emptiness, that gives all its meaning to the work of art. But the part which is a cut becomes also a sculpture! Both works of art contain an harmony of solid and empty figures that give all its strength to the sculpture. The two works of art are not exhibited at the same place, inviting the amateur to an initiatory voyage between two locations to discover them. The third dimension to Dominique's sculpture is the emptiness that even allows to create colors by turning empty parts of the sculpture to the sky, by instance, to give blue. The emptiness in her sculpture let the amateur's imagination work. Dominique is happy not to own the meaning of her work: it lives in the eye of the one who feel an emotion in front of it.
She calls her concept and artistic approach "Ecology-New technology" as the sculptures she produces leave no scrap and are respectful of the environment.
In Nice, in addition to the Parc Phoenix, Dominique's sculpture have found their place in a station of police and in the Moulins prison. For Dominique, the art has a place up around the city, and even in a prison, as it must raise the artistic part of the human being.